Nevada Community School District has partnered with the Iowa Department of Transportation (DOT) to offer Skip the Trip to our students. This program allows students to take the driver knowledge test required to obtain a driver's instruction permit here at Nevada Community Schools, saving you time by reducing multiple trips to driver's service centers if your student does not pass on his/her first try.
To be eligible to take the remote knowledge test, your student must be age 14 or older (they can actually take it prior to their 14th birthday but the test is only good for one year) and not currently hold an Iowa instruction permit. The test will be offered every other Wednesday during Cub Pride Time at Nevada Middle School. Arrangements will be made with Amanda Hoffman for high school students to take the test at their convenience.
The knowledge test will be administered by an approved school/agency official, Amanda Hoffman, Nevada Middle School Counselor, and the test results will be emailed to the student and retained in the Iowa DOT's customer records.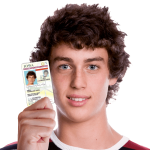 The student will still need to go into a driver's license service center with their parent or legal guardian to be issued an instruction permit. Once a student has successfully completed the test, they will receive a test receipt email. Bring a copy of the email to the driver's license service center, along with the other required identity documentation (listed below) the student must have to be issued their instruction permit.
What documents need to be brought to a service center to receive an instruction permit?
(Can also be found at http://www.iowadot.gov):
Proof of age and identity (U.S. birth certificate, U.S. Passport, or proof of lawful status documentation)
Proof of Iowa residency (Two documents showing the student's address)
Proof of your social security number (Social Security card)
Parental consent form, if you are under 18 and your parent is unable to come with you to the service center (not required if parent or legal guardian is present)
To prepare for a successful knowledge test, students should study the Iowa Driver's Manual and online practice test, both available at: https://iowadot.gov/mvd/driverslicense/manuals-and-practice-tests
Please direct questions about Skip the Trip to:
Amanda Hoffman, Nevada Middle School Counselor
ahoffman@nevadacubs.org
515-382-2751