Monday's Nevada school board meeting was held at the district's Central Elementary School in order to tour the building's new Maker Space.
Third/fourth grade multi-age teacher Maggie Davis and many of her students were on hand to show board members what is offered in this space.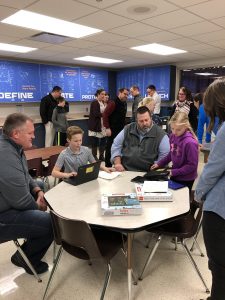 One station featured a game where a student can place colored blocks and it will correspond to a tablet program, enabling students to create their own video games.
Every game and activity the board was able to see on Monday night was involved somehow with coding, so as teachers move into different curriculum points, it is expected that Nevada Central Elementary teachers could stock different activities in the Maker Space.
"This is a space to build and problem-solve," said Davis. "The [dedicated] room gives us a lot of options and it will be really fantastic for our kids."
Davis mentioned that students and staff are still in the process of figuring out what supplies are best utilized in the space, and potentially how elementary teachers would rotate room usage.
Originally posted in the Nevada Journal.