The town of Nevada, Iowa was settled in 1853 by Johnson Edgar.  Its name, Nevada (pronounced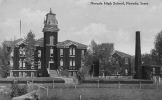 na-VAY-da), was proposed by Joseph Thrift after the Sierra Nevada mountains.
According to records, the first classes were held in private homes until November of 1858 at which time the first school building was occupied.  Official organization of the school district occured in 1867.
District Organization
| Year | Event |
| --- | --- |
| 1867 | Organized as an Independent School District |
| 1958 | Reorganized with Shipley and Nevada Township to form Nevada Community School District |
| 1959 | Reorganized with part of North Grant District |
| 1960 | Reorganized with Richland Township and Fernald Districts |
| 1961 | Reorganized with Milford Township Consolidated District |
Building Construction & Renovation Timeline
| Year | Event |
| --- | --- |
| 1858 | First school building constructed, area of Fifth Street and I Avenue |
| 1876 | Construction of North part of Old Central |
| 1882 | Construction of South part of Old Central |
| 1896 | Dana (North) School constructed |
| 1899 | West School constructed |
| 1908 | Science Building to the South of Old Central (known later as the Band & Shop building) |
| 1917 | High School Building (known later as the Junior High) |
| 1923 | Milford School constructed (Gym added in 1956) |
| 1938 | Fieldhouse constructed |
| 1955 | Addition to South of Elementary |
| 1962 | Senior High School constructed |
| 1967 | Addition to North of Elementary, Old Central and Science Building razed |
| 1977 | Senior High School Addition |
| 1987 | Central Elementary West Addition (Library) |
| 1988 | Transportation Facility constructed |
| 1991 | Middle School constructed |
| 2005 | NCRC Building purchased |
| 2008 | Central Elementary renovation, addition |
| 2009 | High School renovation, addition |
| 2012 | Josephine Tope Auditorium constructed |
| 2014 | Cub Stadium Renovated |
| 2019 | Baseball moves from Billy Sunday Field at 4H grounds to new complex at SCORE Park |
| 2021 | Gates Memorial Hall purchased from the City of Nevada for use as District Offices & Public Meeting Venue |
Disposition of Buildings
| Year | Event |
| --- | --- |
| 1962 | Closed Fernald |
| 1965 | Closed North School, Sold West School |
| 1966 | Sold North School |
| 1967 | Closed Old Central, Closed Shipley |
| 1970 | Sold Shipley School |
| 1971 | Sold North Grant School |
| 1988 | Closed Old Transportation Facility |
| 1989 | Sold Old Transportation Facility |
| 1991 | Closed, Sold Milford School |