Harmony Clothing Closet and Nevada High School have teamed up to provide storage space for the nonprofit, while giving students valuable hands-on experience.
A handful of students in industrial tech teacher Greg Baethke's high school woodworking class have been building shoe racks for  Harmony Clothing Closet, after a request came from fellow school staff member Elizabeth Gindt.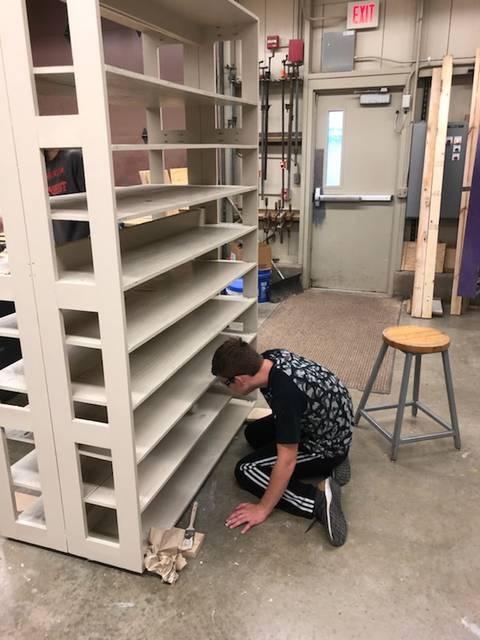 Harmony Clothing Closet is a nonprofit clothing pantry that gives away clothes and household items to people in need. The organization has been active in Nevada for 13 years, Gindt said, and is open to everyone.
According to Gindt, everything that goes into running Harmony is donated, including clothing and items, volunteer time and finances.
Gindt, who serves as an academic coach for Nevada's high school and middle school, is also a volunteer at Harmony. After noticing that the clothing pantry was in need of new shoe racks, she and another Nevada High School colleague and Harmony volunteer, Jalene Hornbuckle, went searching for options.
"Greg stepped up with his class to build some custom shoe racks that would fit the space as opposed to finding some and making them work," Gindt said.
The new racks will replace the existing storage system for Harmony, which Gindt said was unstable and becoming unsafe.
Recruiting the help of the woodworking class was also a more affordable option, Gindt said, because Baethke only charges for the cost of materials when his class does custom builds for people.
"We charge nothing for them," Baethke said. "It's really the experience of the kids doing them."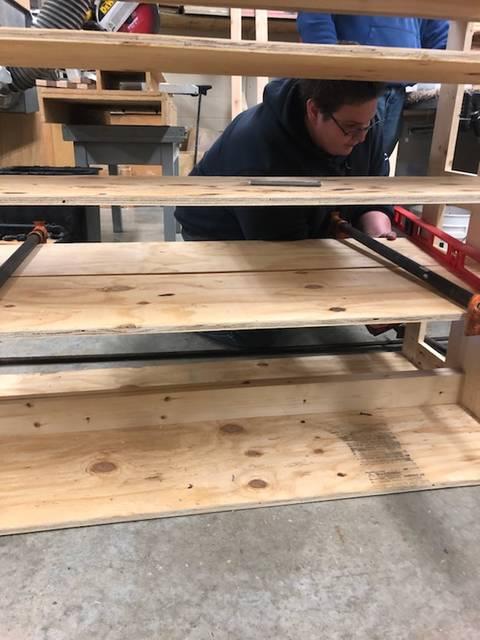 Baethke said he and five or six students worked together to design a plan for the racks that would work best in the Harmony space using Autodesk Inventor, a 3D design software that allows them to see exactly how the rack will look before getting to work.
The shoe racks are a rather large build for the students, Baethke said. Each of the 4 units are about seven feet tall with eight shelves to hold shoes. When building and painting is finished, the units will be attached together to make two larger racks that will best fit in the Harmony space. In total, Baethke said the racks should hold over 300 pairs of shoes.
Baethke said the students have been working on the project since November, and hopes to have it finished soon.
"We've got one just about done and painted," Baethke said. "The other one we're just about done putting it together."
While Baethke doesn't really advertise the services of his woodworking students, he said they often get requests for specific builds that he offers to students looking for projects.
"The last few years every time I have a woods class someone contacts me about doing something," he said.
For Gindt, the custom build should be something that lasts well into the future of Harmony Clothing Closet.
"We're just extremely appreciative of the work they're doing," Gindt said, "because without that we probably wouldn't have had something that is unique to the building and useful in the long term."
Originally posted in the Ames Tribune.