Central Elementary is getting ready to kick off an adventure where all students will be able to earn FREE books!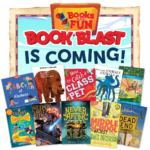 The voyage starts next week when students will cast off in search of Book Blast treasure. Once students receive their Treasure Map next week, the treasure hunt begins!
Be sure to participate for a chance to win one of 4 Treasure Chests full of cash and even an Apple iPad! But even better, you'll be starting the journey to earning all 10 books on the Treasure Map booklist. Heave ho, let's go readers!