On Saturday, Oct., 6, the Nevada Cub Pride Marching Band performed at the Iowa High School Music Association State Marching Band Festival in Fort Dodge. This year the marching band has been using the music of KISS for the theme. Drum majors are Rowan Huegerich, Rebecca Harwell and Eva Kellen. Under their leadership, the band performed its best at State Competition and received a rating of Excellent (Division 2).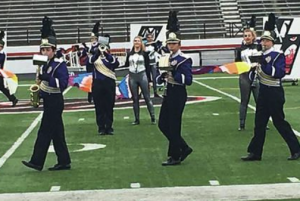 KISS, a Rock and Roll Hall of Fame band, has been performing for over 45 years and is known for powerful music and incredible live shows.
Music played the marching band included "I Wanna Rock" and Roll All Night, Beth" with soloist Kimberly Garcia, "Detroit Rock City" and "Shout it Out Loud."
Special mention needs to be made of the senior marching band members who have exhibited leadership in daily rehearsals and performances: Andrew Barloon, Kelly Beals, Samantha Black, Jade Bleeker, Luci Buck, Jay Calentine, Lindsey Donnelly, Madysen Farmer, Kimberly Garcia, Rebecca Harwell, Rowan Huegerich, Daisy Lopez, Megan Mumm, Caitlyn Sharp, Marisa Snider, Nathan Tanner and Katie Womeldorff.
Article originally posted in the Nevada Journal – http://www.nevadaiowajournal.com/news/20181011/nhs-cub-pride-marching-band-performs-at-state