Nevada High School becomes one of only 13 other schools in the state of Iowa to create Registered Apprenticeship programs in their schools.  Nevada will start by housing a Welding apprenticeship, and will participate in a Meat Cutting apprenticeship with Boone.  This is only the start, as we continually look to add to our offerings.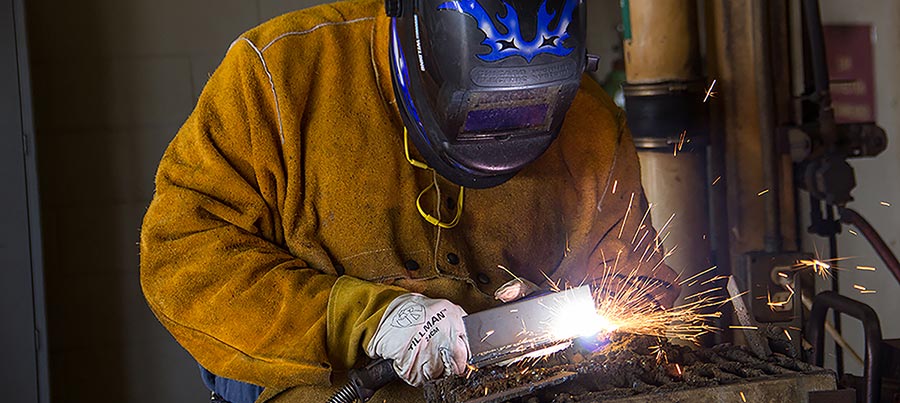 The Registered Apprenticeship system provides opportunity for workers seeking high-skilled, high-paying jobs and for employers seeking to build a qualified workforce. Registered Apprenticeship is an employer-driven model, combining on-the-job learning with related classroom instruction and allows the Registered Apprentice to earn a paycheck from day one. Registered Apprenticeship Programs are a proven solution for recruiting, training and retaining world-class talent in Iowa. Since Iowa is experiencing a talent gap with an aging workforce of highly-skilled and experienced workers, this program has the ability to attract a new and more diverse talent pool, close the gap in workers' skills, and awards an industry credential issued by the Department of Labor upon completion of the program.
The welding apprenticeship program is a collaborative effort between Nevada High School, DMACC, ALMACO, PMI, and the Department of Labor. Students who pursue becoming a welding apprentice will graduate high school, receive job-embedded learning experiences, and earn credits towards an Associates of Applied Sciences through DMACC. The program is offered to any Junior or Senior who is 16 years of age and is enrolled in the DMACC welding program offered at Nevada High School.
The end product for one of our students taking the Welding apprenticeship would look something like this: High School Graduate, National Career Readiness Certification, potential American Welding Society Certification, Apprenticeship Certification, Associates of Applied Sciences (Optional), and Career Readiness/Employment.
For more information, contact Assistant Superintendent Justin Gross.