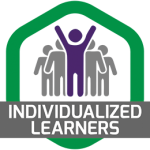 INDIVIDUALIZED LEARNERS
Individualized learners engage in creative and critical thinking remaining flexible and continuously adapting, as their learning needs change.
---
Alignment to Community Developed Learner Outcomes:
Creativity

ELEM…..Being a part of a student led enterprise.

MS … Share a technology-based presentation to an identified audience.

HS…. Initiates own learning by researching self-created essential questions

Critical Thinkers

ELEM…..ID the problem, analyze the problem, evaluate the information and form conclusions.

MS…. Identify a community-based problem and present a solution to a group.

HS…Uses metacognition to advance own higher-order learning

Flexibility and Adaptability

ELEM….Participate in many collaborative groupings.  Being a good listener as well as asking students to be risk takers.  

MS… Set and update an academic goal and action plan

HS…Recognize *something* isn't working and develop a new plan

Empathetic and Compassionate Individuals

ELEM….Building relationships with multiple stakeholders (Mosaic, Long Term Care, Nevada Food Bank, Cubbie's Cupboard)

MS… Participate in the CKH social contracts affirmations  
   10 hours of community service
HS…Demonstrates a growth mindset
Alignment to District Belief Statements:
We will make decisions that place students first.

We will provide a safe, supportive, positive learning environment for all students.

We will collaborate to strengthen instruction and learning.

We will create meaningful learning experiences to actively engage all students.

We are committed to changing with our world.
Alignment to Current District Initiatives:
Capturing Kids Hearts

Social Emotional Learning

Authentic Intellectual Work

Community Identified Learner Outcomes

Competency Based Education